Here are the 5 Tons Cranes Price You Need from Ellsen Winch Factory, Order Now!
There are many series of crane products with both light duty and heavy duty capacities in Ellsen. 5 tons cranes are the hottest sale hoists in Elslen. Heavy duty gantry cranes, overhead cranes are mainly used in the heavy industries, such as the foundry industry, construction industry, and the marine industry. However, Ellsen also provide our clients with small duty cranes for their workshops, warehouses. So the portable gantry cranes, the movable bridge cranes, 5 tons traveling crane, the five-ton jib cranes, the electric hoists 5 ton and the 5 ton overhead are available for our customers in Ellsen.
5 tons bridge crane for sale
5 ton overhead crane is one of a light duty bridge crane in Ellsen hot sale series crane products. This kind of overhead crane 5 ton are widespread used in plants, workshops, warehouses, workstations, etc. for loading light duty materials. As for its cost-effective and flexible usage features, the 5 ton overhead crane for sale  is warm welcomed by our customers both at home and abroad. The 5 ton bridge crane price we offer to you ranging from $3,000 to $10,000. For the specific 5 ton overhead crane quotation, please keep in touch with our 5 tons cranes factory supplier.
5 ton overhead crane specifications
| | |
| --- | --- |
| Model | 5t single girder overhead crane |
| Lift capacity | 5 t |
| Lift height | 3-30 m |
| Span | 3-30 m |
| Lift mechanism | Wire rope hoist or Chain Hoist |
| Control type | Remote control |
| OEM/ODM | acceptable |
| Warranty | 12 months |
| MOQ | 1 set |
Any specific customized bridge crane demands, please be free to contact us.
Ellsen cutting-edge 5 ton electric chain hoist
Ellsen 5 ton electric chain hoists are high-performance products with cutting-edge technologies. Since we have been devoting ourselves in the crane innovation and development, we shall always supply the efficient electric hoists for our clients. The electric hoists five ton are one of a series of advanced lifting products from Ellsen. Following is a brief introduction to its technical highlights on different parts in a brake system, security devices, alarming systems, control systems, and hooks.
The best eye-catching technical highlights on different parts of the five tons electric chain hoists you shall miss
Three in one protection system dual brake system, double limit switches and the overloading alarm
Compared to our electric chain hoists counterparts, the best differences of our electric chain hoists is our double brake systems. Disc type motor brake working with a mechanical load brake provides load lowering control. Electric brake designed for easy access and simple adjustment. To this end, its safety parameters are enhanced to a higher level.
In addition to the dual brake system, we also install double limit switches on our electric hoists five ton. The upper and lower limit switch can prevent over winding by stopping operation in the case of over lifting or overpowering. So, it also promotes the safety performance of the electric hoists.
Apart from the above two safety devices, there are also another one safety devices installed on our five ton electric chain hoists. That is the overloading alarm which is installed as load detecting safety device to prevent overload for greater hoist longevity.
Next technical highlights is its push button control system whose compact design enables one-handed operation. Including the Rated NEMA 4 protection; Emergency stop button included. And its push button cable has strain relief to prevent cable damage.
And right here another light of our five-ton electric chain hoists we offer to you is its forged hooks. Its load hook is a forged carbon steel hook with a heavy-duty hook latch. Thrust bearing in hook allows 360° rotation to prevent twisting of load chain.
Apart from the highlights above, Ellsen brand five-ton electric chain hoists price is also quite competitive than our counterparts in the same industry. Welcome friends afar connect with our electric chain hoist manufacturer for the chain hoists quotation.
5 ton gantry crane for sale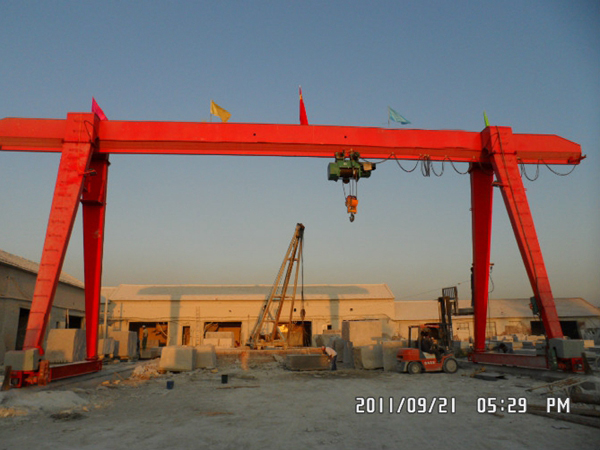 Except for the heavy-duty gantry cranes, such as the double girder gantry cranes, the U-type gantry cranes, and the single girder gantry cranes, we offer to our clients for their heavy industry usage. The heavy-duty gantry cranes are mainly used in the big projects, such as the bridge construction, oil drilling, marine shipment, steel foundering, etc. While in the warehouses, workstations, workshops, or family yards, there are surging demands on the light duty gantry cranes. Here in Ellsen, to respond to our customers' demands, we especially produce a series of light loading gantry crane 5 ton. This 5 ton gantry cranes feature flexible, cost-effective and adjustable. To this end, it always wins our clients' recognition. And many of our clients also prefer to buy the 5t gantry crane for their yard facility.
5 ton gantry crane specifications
Lifting Capacity: 5-200t
Span: 18-35m
Lifting Height: 6-18m
Lifting Speed: 3.5-12.5m/mim
Travelling Speed: 28-45m/min
Working Class: A5
5 ton jib crane for sale  price
Customized jib crane consists of a horizontal load supporting boom, which is attached to a pivoting vertical column that is either free standing or building mounted. They enable lifting and lowering of a load within a fixed arc of rotation. Jib Cranes can be provided in a variety of capacities and configurations including motorized rotation. Here in Ellsen, we would like to recommend on the type of hot sale jib cranes to you: the 5 tons jib cranes. Or if you need some other type of customized jib cranes you can be free to contact us. Our Ellsen jib crane supplier will sincerely serve for your demands.
The Ellsen jib crane price we offer to you is very competitive compared to the jib crane manufacturers in the same industry. That is because we are an integrated crane machinery company. We have our own jib crane factory. And we operate crane manufacturing, selling and innovation as a whole, so that is also the primary choice for our customers to buy our jib crane products.
Five-ton jib crane specifications (BZ type)
Lift Capacity: 0.25-20

Max Lift Height: 3-8m

Slew Angle: 360°
Level Travel Speed: 20m/min
Electric Motor Supplier: Siemens
Recommended light duty overhead cranes for your reference
Welcome friends afar contact our jib crane sales manager for the 5  tons cranes quotation.